Sex in advertising essay
Skip to main content
College of Arts & Sciences
Search
You are here
Home

Research
Publications
Ancient Sex: New Essays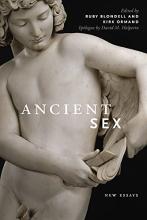 Ancient Sex: New Essays, ed. Ruby Blondell and Kirk Ormand. Ohio University Press, 2015.
Ancient Sex: New Essays presents groundbreaking work in a post-Foucauldian mode on sexuality, sexual identities, and gender identities in ancient Greece and Rome. Since the production of Foucault's History of Sexuality, the field of classics has been caught in a recursive loop of argument regarding the existence—or lack thereof—of "sexuality" (particularly "homosexuality") as a meaningful cultural concept for ancient Greece and Rome. Much of the argument concerning these issues, however, has failed to engage with the central argument of Foucault's work, namely, the assertion that sexuality as we understand it is the correlative of a historically specific form of medical and legal discourse that emerged only in the late nineteenth century.
Rather than reopening old debates, Ancient Sex takes up Foucault's call for discursive analysis and elucidates some of the ways that ancient Greek and Roman texts and visual arts articulate a culturally specific discourse about sexual matters. Each contributor presupposes that sexual and gendered identities are discursively produced, and teases out some of the ways that the Greeks and Romans spoke and thought about these issues. Comprising essays by emerging and established scholars, this volume emphasizes in particular: sexual discourses about women; the interaction between sexual identities and class status; gender as an unstable discursive category (even in antiquity); and the relationships between ancient and modern sexual categories.
Related Fields:
Greek (Classical)
Latin Literature
Classics
Feminism and Feminist Theory
Gender, Women, and Sexuality Studies
Intellectual History
Queer Studies
Visual Culture
Browse by fields of interest:
Feminism and Feminist Theory

Gender, Women, and Sexuality Studies

Global and Transnational Studies

Greek History and Culture

Law and Political Thought

Literature and Other Arts

Roman History and Culture

Translation and Interpretation
Support Classics
 

Facebook

 

Mailing List

 

News Feed
Skip to content Skip to site index
Style
Subscribe Log In
Today's Paper
RITES OF PASSAGE
How to Submit a 'Rites of Passage' Essay
We want to read your stories.
The editors of Rites of Passage , a column that appears regularly in Styles, want to read your essays. A "Rite of Passage" can be something big or small, humorous or serious, but the best stories tend to be about a specific experience that had some lasting impact on your life. They are narrative in scope. While traditional rites (graduation, first child, marriage) can be illuminating, it's the unconventional or surprising rites we are particularly interested in: Turning 40 as a childless and unmarried woman ; the decision to stop plucking one's eyebrows ; a marination on what awkward sex discussions with his dad — while trapped in the family station wagon — taught a young man about sex.
These essays should be written as personal narratives, so please make sure to tell us how the event unfolded and what it meant to you.
How do I submit?
​Send a completed essay of 1,200-1,500 words to ​ [email protected] , including a one sentence bio of yourself at the end.

Attach your essay as a Microsoft Word-compatible document AND paste the text into the body of the email. These elements must be sent as ONE email.

Please put the subject of your essay in the email subject line.

Please summarize your essay in a few sentences at the top of your email and tell us who you are.
Some housekeeping:
We do not allow pseudonyms (including the author), composite characters or invented situations.

Essays must be previously unpublished.

Writers will be compensated for work that is published.
We look forward to reading your stories.